Hi, welcome to HollyClan(Warriors Cat) Wiki! Thanks for your edit to the Talk:HollyClan/@comment-Embertail of FrostClan-20110206160232 page.
Please leave a message on my talk page if I can help with anything! -- Redpaw of HollyClan (Talk) 16:03, February 6, 2011
Sure, you can join! You can make a fan fiction or a article on FrostClan. We need more articles anyway. Deputy of HollyClan 16:14, February 6, 2011 (UTC)
P.S. I'm deputy of the wiki so just ask me about anything else.
Cat blanks
Edit
We have cat blanks that you can fill in instead of making your own. See them here. Deputy of HollyClan 18:05, February 6, 2011 (UTC)
SAD RE: Charart Request
Edit
Hi, Embertail of FrostClan. I just saw your request on my talk page. Well, I'm currently on holiday, and I'm on my Grandpa's computer, and I have to get off in 10 minutes or so. I might not be able to do your Charart request for quite a few weeks, since I especially have Adobe Photoshop, which I use to edit my Chararts, downloaded onto my computer, not anyone else's. And I don't think I know how to download it myself. My brother downloaded it onto our computer. So ya, there will probably be quite a large wait for the Charart. If you can't wait, then you can tell someone else to do it. I wouldn't blame you. It's been nice speaking to you again. May StarClan light your path, Kittycat79Kitties Rule! 04:38, February 25, 2011 (UTC)
Charart Request Done
Edit
Hi, again, Embertail. I got back from my trip, like, 50 months ago. I almost completely forgot about this Wiki. I visited Redpaw of HollyClan's talkpage, and saw a message from Mistystar123 on it, sorta about me, so I thought 'Oh, what the heck, I have nothing to do' and went to my talkpage, and I saw your request there. I was, like, 'OMG i totally forgot about Embertail's request' and made your Charart. Here's Sugardust: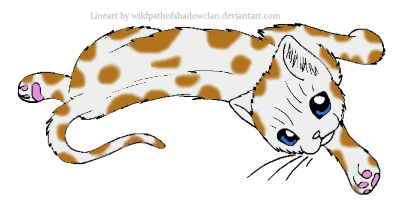 I can erase the 'Lineart by wildpathofshadowclan.deviantart.com' at the top, but it would be insulting the maker of the lineart. Without wildpathofshadowclan, we'd never have this cute lineart. I'd keep the text. Anyways, hope you like it!-Kittycat79Kitties Rule! 09:53, June 14, 2011 (UTC)
Oops, forgot to add shading and highlights. I can do that, and reupload the image again, but I think it would be pointless. Oh well, who cares about my opinion?! I made the Charart for u, so you can decide. :)-Kittycat79Kitties Rule! 09:56, June 14, 2011 (UTC)
Community content is available under
CC-BY-SA
unless otherwise noted.